About Us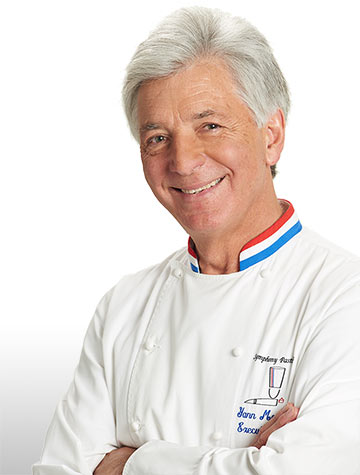 Creative Beginnings…
Yann Machard was raised amid fine French cuisine, owing to the fact that several family members are French Chefs. While surrounded by all of this glorious food, Yann loved practicing the fine arts of painting and sculpting. It was eventually suggested by his family that pastry would be a wonderful way to express his artistic talents and desires and be in keeping with the family tradition of fine cuisine. So…by integrating a passion for food and creativity, the family's first (and only) Pastry Chef was "born."
In the beginning of his career as a Pastry Chef, Yann worked at and with some of the top names in French Pastry including Lenotre, considered to be the best pastry shop in France.
Yann flourished in his art and decided to give America a taste of his creativity. He arrived in New York City in 1973, worked at Dumas and with Chef Maurice Bonté. He then made his way to Denver, Colorado and began a six year run at Le Petit Gourmet Catering, the premier caterer in Denver. He returned to New York as Pastry Chef for the world-famous Tavern on the Green restaurant, delighting patrons for the next four years. However, during this time, Yann saw an emerging need for quality, wholesale French Pastry as fewer and fewer culinary students were choosing pastry.
Symphony Pastry fills a growing industry need…
Out of a desire to assist restaurant pastry chefs in providing quality French pastry to patrons, Yann opened Symphony Pastry. He decided to inspire these chefs with the delicious foundations for their creative expression with his top-quality ingredients, combined in mouthwatering and visually pleasing ways! The chefs could then creatively "finish" these pastries and present them to their patrons plated in extraordinary fashion.
Yann loves the creativity of his trade, and loves helping Pastry Chefs by bringing them to an even higher level. You'll find only the absolute best ingredients in Symphony Pastry products: imported chocolate with a minimum of 68% "cocoaliquor," Tahitian vanilla beans, imported fruit purées, heavy cream and pure butter.
Yann will also create custom pastry upon request -- if you can envision it and "taste" it, Yann will make it for you!
Let Yann be your personal Pastry Chef - he's here to serve you and foster your creative best!